Our Butcher Shop line features 100% all-natural U.S. hides packaged and processed entirely in North America. Your dog is sure to love them, as they clean teeth and stimulate gums. They are conveniently packaged in a resealable pouch to insure freshness.
Butcher Shop 12 in. Bully Stick 1 - Pack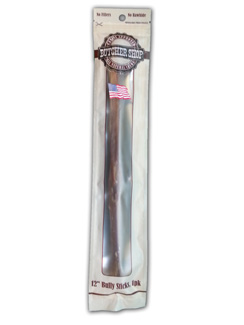 Made in the
U.S.A. 
PRODUCT INFO
Item #
SPR-012055
UPC #
8 17133 01205 5
Description
12" Bully Stick 1-pack
Case Pack
12
Case Weight
1.45 lbs
cases Per Pallet
552
Pallet TI
24
Pallet HI
23
Butcher Shop 6 in. Bully Stick 2 - Pack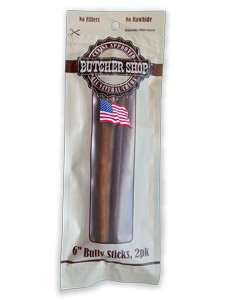 Made in the
U.S.A. 
PRODUCT INFO
Item #
SPR-012062
UPC #
8 17133 01206 2
Description
6" Bully Stick 2-pack
Case Pack
12
Case Weight
1.45 lbs
cases Per Pallet
960
Pallet TI
40
Pallet HI
24
Butcher Shop 6-7 in. Rawhide Bones 4 - Pack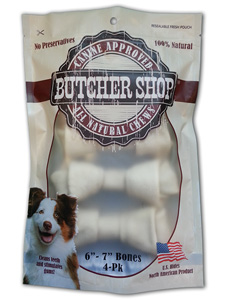 U.S. HIDES
North American Product 
PRODUCT INFO
Item #
SPR-013168
UPC #
8 17133 01316 8
Description
6-7" Rawhide Bones 4-pack
Case Pack
24
Case Weight
25 lbs
cases Per Pallet
72
Pallet TI
8
Pallet HI
9
Butcher Shop 8-9 in. Rawhide Retrievers 4 - Pack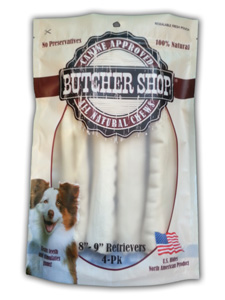 U.S. HIDES
North American Product 
PRODUCT INFO
Item #
SPR-013151
UPC #
8 17133 01315 1
Description
8-9" Rawhide Retrievers 4-pack
Case Pack
24
Case Weight
23 lbs
cases Per Pallet
72
Pallet TI
8
Pallet HI
9